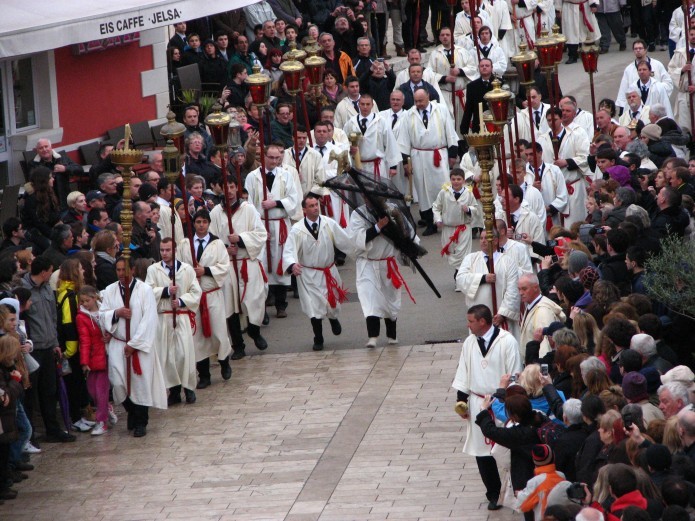 Procession "Following the Cross" during Holy Week
Published: 06.12.2014 u 10:17
The first record of the Procession "Following the Cross" is found in the visitation of Bishop Milania in 1658. He notes that the Procession began even earlier, starting on Good Friday in the morning or after midnight. The procession "Following the Cross" starts at 22 pm on Holy Thursday, lasts 8 hours, covers a distance of 22 km and includes six parishes: Jelsa, Pitve, Vrisnik, Svirce, Vrbanj and Vrboska.
He is either barefoot or in socks and carries the Cross that is covered with a black veil. The cross bearer has his own helpers, followers and singers who sing crying, mounts "Torca" (large candles) and batištradu (procession leader). Everyone is dressed in white Brotherhood tunics. Official staff processions Many worshipers from all over the island and guests who are staying on the island, carrying candles and rosaries.
Other locals and many guests wait for the Procession from other places with them in church and sing and participate in the prayers.
Procession "Following the Cross" as an intangible cultural heritage under the protection of UNESCO.